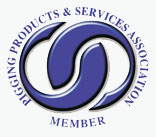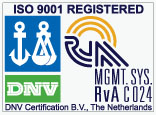 Casing Insulator
The main scope of the pipeline insulator should be used to support the carrier pipe inside the casing pipe and electrically isolated the carrier pipe from the casing pipe at the cased crossings.
Resist cold flow and will not soften at design temperature
Resist corrosion
Resist mechanical damage while being pulled into the casing.
Have high electrical insulating value and low water absorption, thus preventing leakage and maintain electrical isolation between carrier and casing pipe.
Have high compressive strength in order to ensure a permanent support to the carrier pipe.
Centered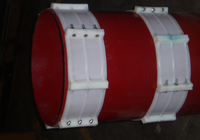 Non-Centered HDPE/pp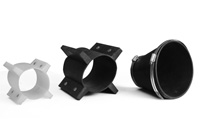 Casing Insulator: isolates the Carrier Pipe from the Casing Pipe. Insulator a.k.a. Isolator (or) spacer is fitted on to the OD surface of the Carrier Pipe. Casing Insulator are made in circular segments & assembled together by steel fasteners.
Casing insulators are designed to support and electrically isolate a carrier pipe from its casing in order to prevent bi-metallic corrosion (Bi-metallic corrosion is a serious threat to pipelines passing through casings at railroad and highway crossings) and also to protect carrier pipe coating from damage.
Casing insulators dialectically insulate gas, oil and water pipelines from casings to prevent corrosion. They also provide support to the pipeline and protect pipe coatings during installation.
We recommend installation of HDPE / PP casing insulators every 3 to 8 feet depending on the site conditions & diameter of the Pipes.