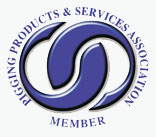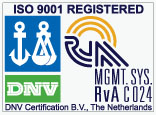 TUBE INSERTS
Tube insert, and ferrule, are the same, a metal, plastic or ceramic tube that is inserted into the end of a heat exchanger tube to provide protection to the Tube mouth ends of a shell & tube type heat exchanger. The purpose of the tube insert is to either be sacrificial to the effects of inlet-end erosion, corrosion, impingement, or induce a fluid to fall on the ID of a tube in a falling film exchanger, or transfer extremely high heat past the tube sheet to the exchanger tubes.
The following problems take place in the Shell & Tube Type Heat Exchangers
Tube-end erosion/corrosion
Stress Corrosion Cracking
Crevice corrosion
Localized pitting
Ammonia grooving
Improper tube expansion
Weakened tube-to-tube sheet joints
For the above problems, VP Engineers (VPE) offers its most cost-effective tube repair, Shield/Seal, also known as a tube insert or ferrule. Although inserts are typically only 6" - 12" long, some applications have required Shield lengths up to 14 feet!
Unfortunately, some exchangers suffer from full-length problems. In this case, VPE Full Length Tube Liners can be a very attractive alternative to a partial or full re-tubing.
Material of Construction (MOC):
Plastics : Nylon ( Polyamide ), LDPE, PP.
Metals : SS 304 /310/316/ 317 /321/347/ 410 / duplex, Hastalloy, Cu-Ni 90/10,Cu-Ni 70/30, Titanium, Zirconium, Inconel 600,Zirconium 702,Aluminium Brass, Admiralty Brass, Aluminium Bronze
Ceramics : High Alumina , Refractory Alumina.
VPE offers installation of Plastic & Metal Inserts at Site. See the service section for details.
Ferrous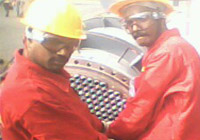 On specific applications with high Temperatures Inconel inserts with ceramic paper wrapping also used, where the inserts one end will flared end & the other end will be with a reverse taper to hold the Ceramic Fiber in between.
Non-Ferrous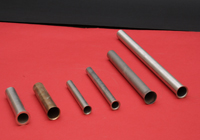 In applications where extremely elevated temperatures (1650 F) are present on the tube side of the exchanger care has to be taken not to warp the tube sheet. The use of tube inserts addresses this problem. Typically the tube insert has an hour glass form, creating an air gap between the tube insert and the parent tube. The gap is wrapped with high temperature (2300 F) ceramic paper. The paper is taped in place. We recommend tape full length. There are two advantages for full length tape, one, more high temperature ceramic paper can be compressed on to the tube insert, two, the tape protects the ceramic paper which cannot withstand even minor abuse. Some tube inserts have anchors that become imbedded into the refractory others have pins with ceramic paper to set the tube insert at a specific height from the tube sheet.
Bonnet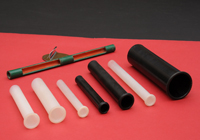 Plastic Inserts are generally preferred in Surface Condensers of a Power Plant. Nylon Tube Inserts can be used up to 150 Deg. C, for some special applications even PTFE Tube Inserts are used for temperatures up to 250 Deg C. Metallic Tube Inserts in different type of Heat Exchangers of different duties for Temperatures up to 800 Deg C.
Flared head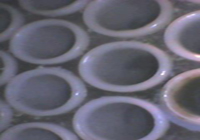 Plastic & metallic Inserts comes with two types of head design. One is a Flared Head which is used when the Tube does not project outside the Tube sheet & the second one is Bonnet Head which is used when the tube slightly projects for about 3 to 5 mm outside the Tube sheet. The Bonnet Head encapsulates the projection in such a way that the high velocity impingement does not affect the Tube mouth end & thus ensures the longevity of tube mouth end & Tube.
Tube Liners
VP Engineers, in its strive to give the best services to the customer, is now offering full length tube liners to completely restore a damaged tube.
VP Engineers also offers Tube Inserts (Ferrules) for the month end erosion problems in Metal, Plastic and Ceramic Materials.
Problems Encountered in Shell and Tube type heat exchangers tubes are :
Erosion & Corrosion problems at tube to tube sheet joint
Cracks, pit holes, punctures in the tube & the most common solution given at site is to go for: Plugging & Retubing.
Plugging of a tube decreases the efficiency of the Heat exchanger, whereas retubing is Laborious, time consuming, & a costly process.
Advantages of Tube Lining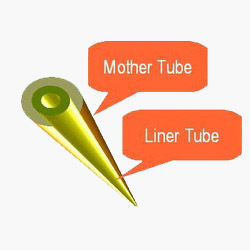 Tube Liners are of same material as that of the parent tube (damaged tube) or a superior corrosion and erosion resistant material.
Superior bonding technology of Hydro Expansion (Not Hydraulic expansion) ensures the tube and the liner are bonded throughout the length uniformly without any air gap. Loss of heat transfer is negligible due to added thickness of liner to the tube.
Tube lining is a quicker process. Each tube gets lined in minutes saving the valuable labour time, cost & downtime.
Tube lining is relatively cheaper as compared to Retubing as it involves lesser labour, more mechanized.
No need to remove the old damaged tube. Damaged tube will be restored to working level with the liner. Lot of time is saved resulting in cost saving & labour time.
VP Engineers offers Standard tube liner materials are SS 304, SS 316, SS321, Cu-Ni 90/10, Cu-Ni 70/30, Al-Brass, Ad-Brass, Titanium, Hastelloy, Zirconium etc.. Any new combination can also be given to suit the conditions.
Tapper
On specific applications with high Temperatures Inconel inserts with ceramic paper wrapping also used, where the inserts one end will flared end & the other end will be with a reverse taper to hold the Ceramic Fiber in between.
Pressure Plug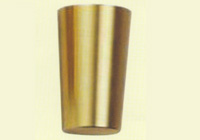 Both solid & hollow.
Available for different tube sizes.
MOC- LDPE,PP,Brass Cupro-Nickel, Foam pigs,etc
ADVANTAGES
There are a number of advantages to this system. The ferrules can be removed and inspected sent back to the factory for new ceramic fiber paper and taping and returned to the unit. Only the ferrules that are worn out need to be replaced. This can be accomplished without the removal of the refractory. The design does not have any metal to metal contact from the ferrule to the tube sheet or the heat exchanger tube.